You might remember Sama' Abdulhadi for her performance in Ramallah, Palestine, which eventually became one of Boiler Room's most popular sets, clocking over 11 million views since its release in 2019. She quickly became popular globally amongst the techno community, bringing sounds from home to the global dance music scene. 
Sama' performed on one of the most diverse lineups on the second day of the sixteenth edition of the Sunburn Festival in December 2022 on the shores of Goa alongside Red Axes from Israel and Black Coffee from South Africa. She took the audience through some hard-hitting-roof-blowing techno laced with punching rhythms; her energy was nothing short of what one would expect after watching her sets online. Every moment was a blow to the face in a way that left you wanting more for ninety minutes of her set. The energy that came through to the audience was loud and clear – a woman expressing her life as a Palestine, Arab, queer through her love for music. Throughout her set, she danced and constantly engaged with the river of people, even from across the stage.
We asked Sama about the early influences that shaped her as a musician. Having never witnessed a festival till she was 19, she exclaimed, "Early experiences? I never knew of this music or what a DJ did till I went to university in Lebanon. I had no idea that such events and communities existed in the world until then".
Experiencing a festival, the vibe, and most importantly, the freedom she experienced like never before was something she needed to feel human again. She knew this experience was something to take back home and share with her friends. Sama' says she knew this was exactly what they needed as a community in Palestine to heal. "This is why I started to DJ; I started playing electronic music for them back home. I am 32 now. This is where I have reached."
To Sama' music is all about community, togetherness and creating safe spaces for people to come together and escape from the world outside. In December 2020, she threw a party outside Nabi Musa, a part of a four-part series sponsored by Beatport. Even having secured all rights and licenses for the event, a group of 10 men stopped the party as Sama' played her last tracks for the night. The next day she was arrested for defiling a religious site and violating health protocols by holding an event during the Covid-19 pandemic. Neither of which was true. The event was organised in the cultural tourist area, away from the shrine, and she had secured the licenses for the event. Abdulhadi's detention led to an outpouring of international support, with artists and DJs from the electronic community and musical icons like Brian Eno and Roger Waters calling for her release. A Change.org petition asking for her release had gathered over 100,000 signatures. When asked how she felt about the petition, Sama responded, "I laughed so hard. I was convinced it was a lie my family told me to comfort me because, on the other hand, I was told people in Palestine wanted to kill me for defiling their sacred space, which I knew was not true, but no one believed me." Only after she left the prison facility did she understand the extent of the support received.
The community helped Sama and her family, especially her parents, understand the intensity of strength the techno industry holds. She passionately said,  "It made me appreciate the techno industry because I realised it is not just an industry; it's a community. Of course, we try to earn a living from it, but we are first and last – a community. It also made my mom and dad respect it; now they understand what I mean when I say – I do it for the community".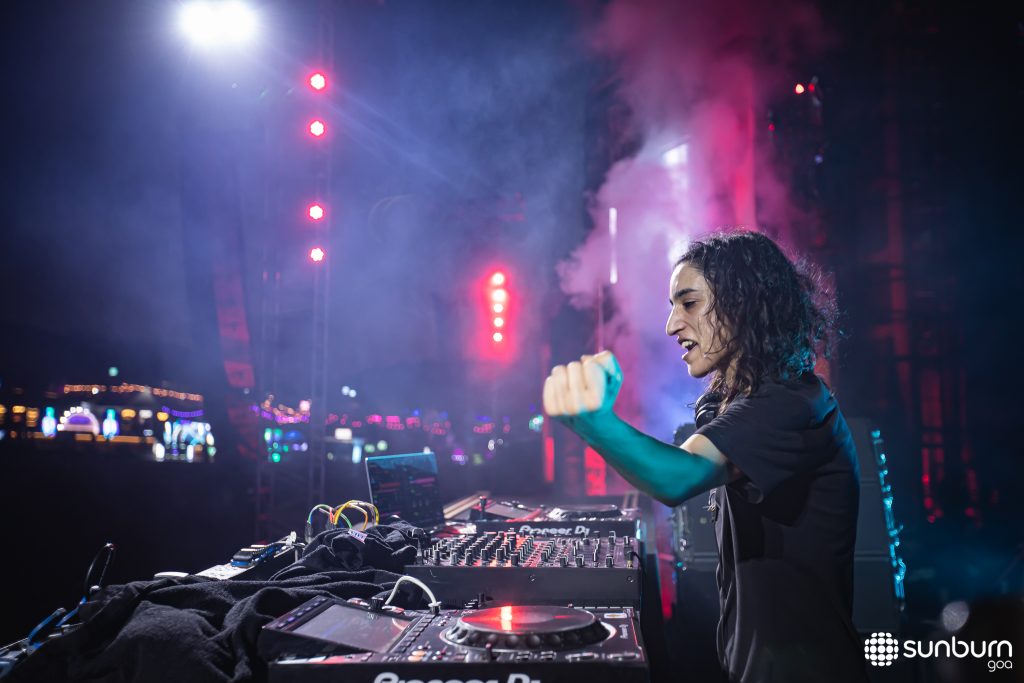 Sama' continues to be very grounded about her impact on the techno world. For her first show in India, Sunburn 2022, Sama' didn't expect anyone to know her. However, the morning she touched Indian soil, her social media was filled with "We're on our way to see you, Sama'" posts across Instagram which filled her heart with joy. She was overwhelmed by the magnitude of the festival, "Being invited to festivals of this size and production quality gives me hope for myself and the Palestine community. I constantly felt the energy from the audience and danced my heart out on the stage". Sama' is excited to come back again, play all kinds of parties and connect more with the community but not without her mother, who longs to visit India.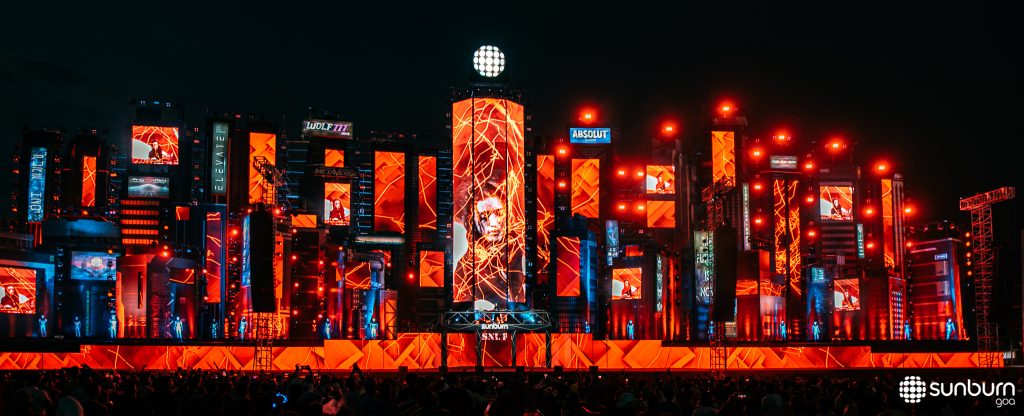 The Palestinian DJ embodies community and togetherness through her love for music, and as a result, she started Union, a collective aimed at showcasing artists from Palestine. Sama' has represented these artists through her music but has also mentored Union artists and organised residencies worldwide in the UK and Europe. The Union, she says, is very close to her heart.
On her off time from touring around the globe, Sama' spends a lot of time critiquing her music as an analytical DJ and producer. When people came to her, she provided constructive, honest feedback to others, just as she would like to receive feedback from them. She realised that most new artists took it well and grew. "I found this community and started to grow with them. It was a big step because we created a family from our community. You know how it is, none of us make a lot of money, we win together, we lose together, it's about exchanging knowledge."
Sama' is an audio engineer, music producer and DJ. Someone else in the Union may have a different set of skills. She teaches them what she knows and learns what others have to offer. Union isn't just a group of DJs or artists. People want to throw parties, attend parties, sound and light experts, graffiti artists etc., all make up the Union. It's more than just the music; it's everything the music embraces. "We all complement each other to organise one party. Sometimes I DJ, other times I work the lights, while at times I am just the security guard. We care about creating a safe space for you and me to express ourselves and let it all out. And then tomorrow, we'll deal with whatever is going to happen.", she says.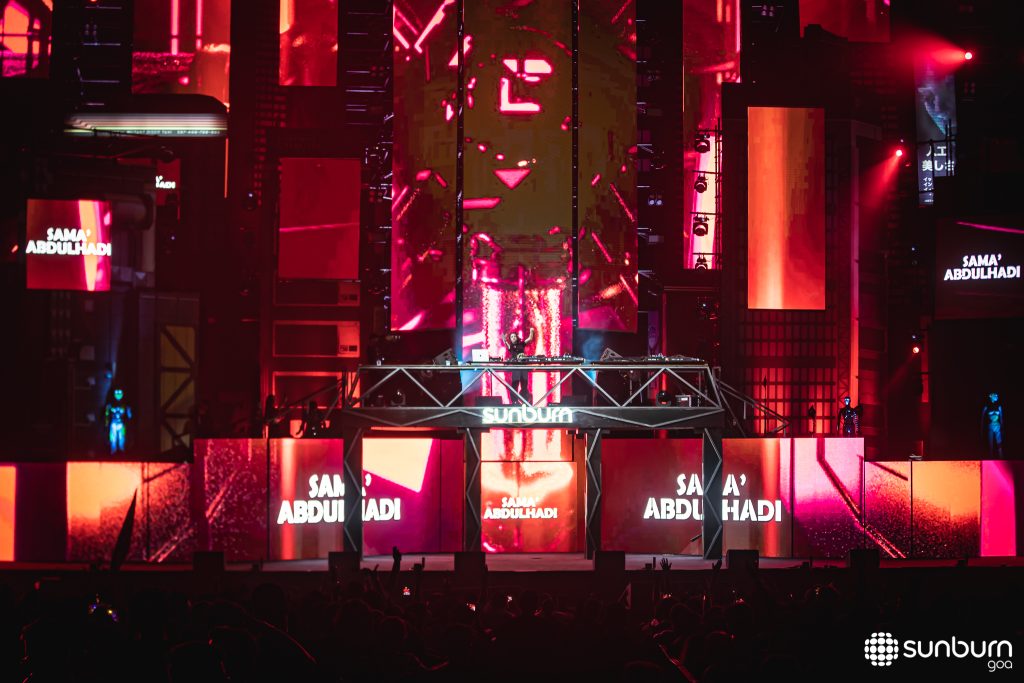 I think we can all learn a thing or two from Sama'. For her, music brings people together, even more so when times are challenging. Music is nothing without its culture and communities that drive it—from organising events, mentoring, teaching, producing etc. Sama' Abdulhadi has done everything to nurture her culture, and in return, the community stood by her even when she least expected it. The thousands of people present during Sama' Abdulhadi's set at Sunburn Festival 2022 were fortunate, but we await her return with a multi-city tour soon!