Last week the dance music community in India witnessed a historic moment with two super massive sold-out techno events in Mumbai and Bangalore. The event we are talking about is the Boris Brejcha India tour put together by the folks at Sunburn Festival. Being Asia's biggest dance music property, Sunburn Festival has been stepping up their game each year. And this year, we saw the father of High Tech Minimal – Boris Brejcha perform at NSCI Dome in Mumbai to a crowd of 12000 dance music fans followed by an equally massive show in Bhartiya City, Bangalore. The production at these shows was absolutely stellar and so were all the warm up sets from our homegrown artists.
We had the opportunity of having a chat with the Fckng Serious label boss just before he played to an audience of 12000 dance music fans at the Mumbai show. Dressed in a sharp black kurta with an embroidered image of the signature joker mask at the back, Brejcha was sitting in his green room having a sip of chilled water and meeting some lucky fans.
'Would you guys like to have something? Water, Beer? Grab a drink and let's chat.' he said welcoming us into the green room. We told him about the last time we saw him in India and what a journey it has been since then. We asked him how he felt returning back to India after all these years. Boris expressed his excitement for the two shows and how he is looking forward to playing two sold-out shows upon his return to the country. 'I am looking forward to how the crowd will react to my music. It's been a long time and there aren't many artists who play the same genre as me so it's always a bit unpredictable in some markets. The last time I was here, the reception was great so I am hoping for a similar response at both the shows.' says Boris with a touch of nervousness and lot's of excitement on his face.
It's not common in India for a techno artist to sell out an arena and certainly not two. Boris Brejcha did just that in Mumbai and Bangalore with Sunburn Festival. From a sunset set at a music festival to two massive shows upon his return, we wanted to know what he thought of the same.
Boris was clearly blown away by the huge response the shows had gotten. 'I don't know what to say really. I mean, I am just a normal guy you know and to see that we have two parties here and both of them are super huge and sold out, it makes me really happy. It's amazing that we have this community and these people to share this moment with my music. So, that's all I can say, I am just happy that we can do that, it's really cool.' said Boris.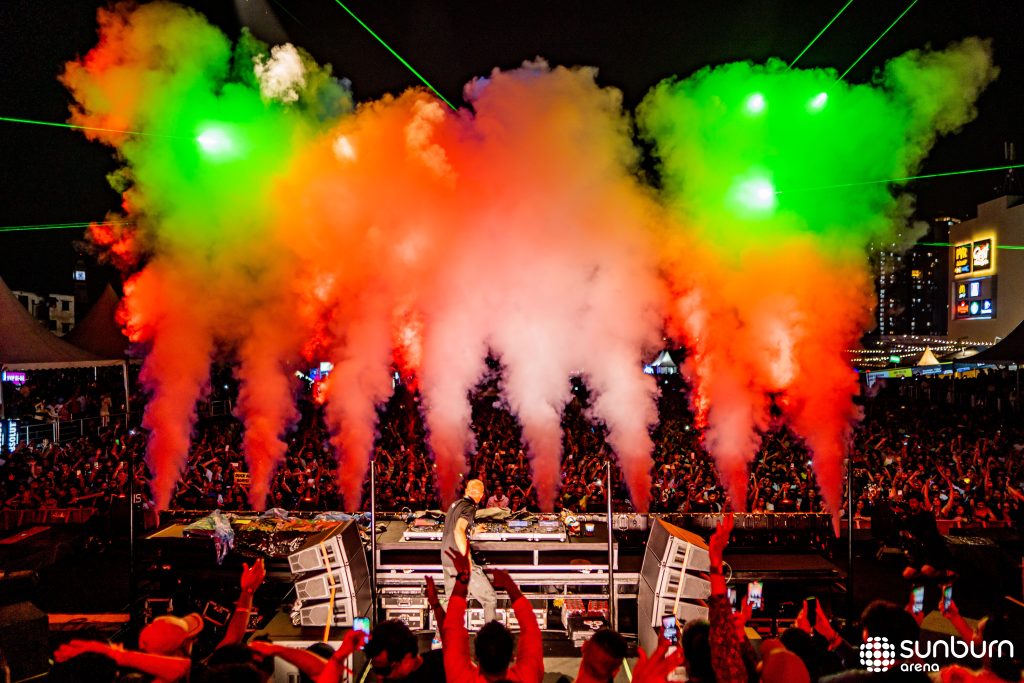 We think every dance music fan has definitely heard of the Cercle team and seen one of their livestreams on YouTube. Boris Brejcha is the only artist that has played three times for the Cercle crew. Since his first set at Château De France, there has been a tremendous increase in his fan following and that has introduced him to a wider audience.
We wanted to know how his relationship with the Cercle team was to which he said, 'Actually, I love them. I mean, you can do a DJ set at home or in a club but Cercle is like something totally different. The experience to play for them as an artist is really exhilarating because they have the opportunity to choose these crazy places for their shows. You would never imagine to play there normally and I am the only one who has had the pleasure of doing it three times for them and that's super massive. The people love it, people are not only coming for the artist but they are also coming for the Cercle guys because of the venue and the whole experience. Thousands of people watch these livestreams around the world and that is an excellent opportunity for us as an artist to take our music to new audience.' 
Regarded as the pioneer of the High Tech Minimal genre, Brejcha has been leading the revolution in the genre. We asked what he felt about the current trends in the genre and what direction he thinks will it take in the future. Being as modest as ever, Boris responded 'You give me too much credit, I mean I was just creating this genre because when I started to produce music, I was doing a lot of minimal techno because that was the big thing back then. However very soon it started to get boring. I have my roots in trance music and so I decided to mix the high tech energy of trance with minimal techno and thus High Tech Minimal was born. I really don't know what the future holds for the genre but it is the genre that I love and there are quite a few artists that are producing some great music in it. The fans are also enjoying the music that we are making so it's definitely here to stay.'
In 2015, Boris founded his own record label Fckng Serious which has since then grown in popularity and is regarded as the home for High Tech Minimal artists. His close friends and peers Ann Clue, Deniz Bul and the duo Theydream were involved from the beginning. Since 2020, the up-and-coming newcomer Moritz Hofbauer has also been part of the crew. In recent years, the artists themselves and the label have established themselves in the scene and their joint label shows and concerts around labelhead Boris now regularly fill halls.
We wanted to know what Boris has in mind for the label in the near future and if there were any artists that we should keep an eye out. With a smile on his face like that of a proud father talking about his kids, Brejcha said, 'You should definitely keep an eye our for Moritz Hofbauer. He is really talented and his production skills are pretty strong. He will definitely be becoming a super successful name in the industry in the coming years. Our other roster artists have been with the label for a while now and they are all absolutely fantastic. Over the years, all of us have visited India for our solo tours and we who knows maybe next year or some time in the future we could possibly do a label showcase here as well. All of us like to call each other family and support each other unconditionally. The future definitely looks bright for the label and we are Fckng Serious about it too 😉'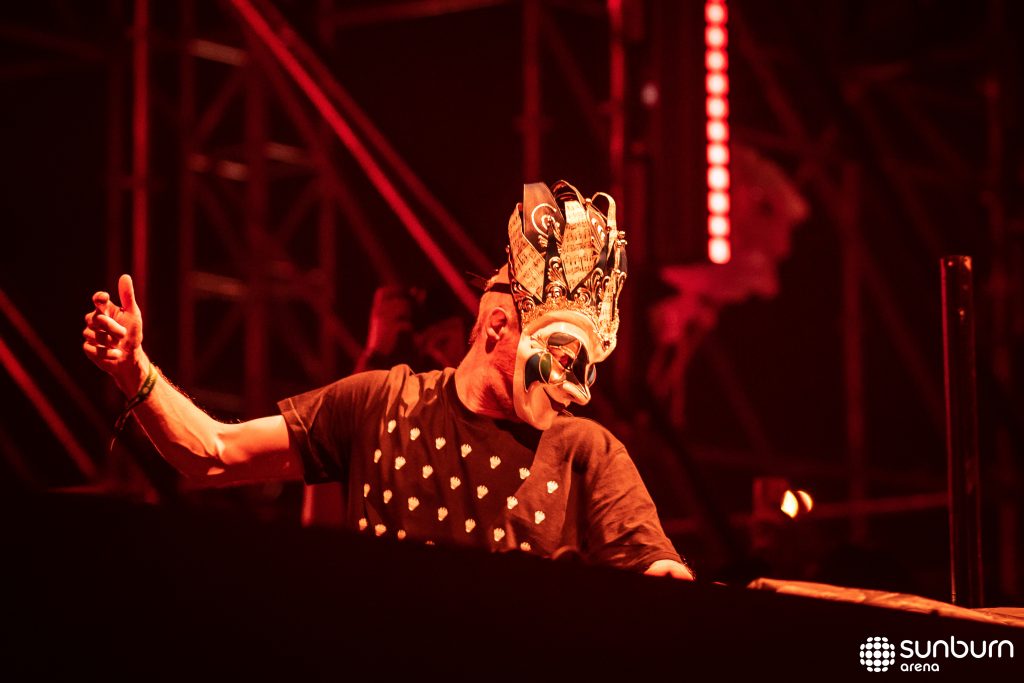 It's always interesting to now the creative method of the artists that we spoke to. So we asked Boris what kind of hardware or software he uses in his studio.
'I will be honest. I am not really a hardware guy. I mean I have tried producing using hardware but I never really enjoyed the process. One of the first piece of hardware I ever bought was a synthesizer called Virus. I used it for a week and then sold it off. I have always loved producing on software. It enables me to do the same things as hardware and I can also do them on the road while on tour or just sitting in a hotel room. It's much faster and the output is good too. So I think it's just a matter of taste. So I am definitely a software child.' responded Boris while sporting a geeky smile.
For a techno act to sell out two massive shows is not an easy feat and it definitely would not have been possible without the right local promoters. We asked Boris what it was like working with Sunburn Festival and what he was looking forward to doing on this trip apart from the two shows.
Boris responded 'It has been great working with the Sunburn team so far. It is our first time working with them and we hope to continue this association going forward as well. We got in Mumbai pretty late so we did not get a chance to go around the city and soak the culture in. We were just sitting by the pool and relaxing and preparing ourselves for tonight. Luckily we have an extra day in Bangalore after the show. So we will definitely love to go around the city and explore. Maybe try some local food and do sightseeing.'
It was almost time for Boris to take over the Mumbai crowd for what turned out to be an exceptionally structured set. We thanked him for his time and the wonderful insights into his and his label's future. We definitely would love to see Boris Brejcha return to India real soon, this time for a Fckng Serious label showcase with the whole crew. Till then keep your eyes peeled to the Sunburn Festival social channels for photos and videos from the shows. Also, don't forget to grab your Early Access tickets to this year's Sunburn Festival Goa which takes you into the Enchanted Forest of dance music. The tickets will be available on BookMyShow from 10th May 2023.