Global festival giant DGTL celebrated its second edition in South Asia last weekend and brought a unique power packed mix of international and local Indian talented artists to audiences in New Delhi (December 9th & 10th, Indira Gandhi Stadium Complex) and Mumbai (December 10th & 11th, Nesco Centre).
The weekend brought together a roster of 40 incredible artists to the dancefloors with their signature styles, a rush of energy, and a much-needed infectious drive after a 2-year hiatus. Some prominent artists included Solomun (making his highly anticipated India debut), Maribou State (DJ), SPFDJ, Tijana T, Dubfire, Colyn, KI/KI and local artists like BLOT!, Anyasa, Likwid, SickFlip, among others.
After its successful debut in Bengaluru in 2020, the editions in New Delhi & Mumbai continued the rise of success for DGTL India. DGTL India 2022 saw over 15,000 people over 3 days soak in world-class techno and electronic music, show-stopping and never-seen-before lighting and stage designs, conceptual showcases, and vital sustainability initiatives, resulting in an immersive, audio-visual weekend experience.
"We always try to create inspirational, innovative and immersive environments across all our global DGTL experiences. After a 2-year pause, it was great to finally bring our ideas around music, art and circularity to life and we're grateful to our community in India who came out in numbers to celebrate electronic music. The DGTL New Delhi and Mumbai chapters will always remain special", said Ellen Evers – Festival Director of DGTL.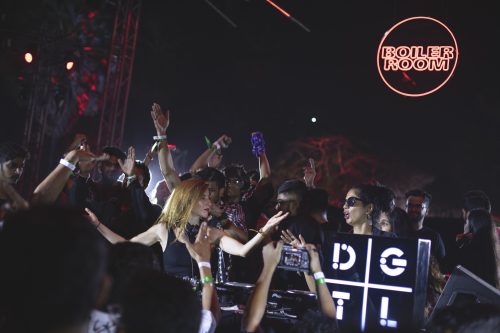 Some of the highlights of the festival were as follows;
Modular Stage: Some of the festival's most awaited sets came alive at the Modular stage powered with future-facing lighting technology and stage design. It showcased how it is imaginable to conceive conceptual and immersive stage design in India. Solomun, Maribou State, Giolì & Assia, Likwid, Dubfire, among others brought their contagious energy to the Modular stage.

Generator Stage by Budweiser: With performances from Ana Lilia & Likwid, Lee Ann Roberts, SPFDJ, DJ Stingray and KI/KI, among others, the performances on the Generator stage across the two cities were one for the books.

Frequency X Boiler Room: Alongside the strong festival line-up, DGTL introduced its first of its kind partnership with Boiler Room, London-based global music and culture brand, to bring its much-awaited line-up to DGTL India. Taking over the centrestage were Cinthie, Guy Contact, Kampire, SickFlip, Tijana T and Zequenx who brought to attendees soundscapes from the fringes.

Gain Stage by Armani Exchange: With Toto Chiavetta, Colyn, Patrice Bäumel and Sindhi Curry festival-goers were in for a treat at the Gain stage. Unforgettable emotive sets and dreamy soundscapes kept everyone dancing; the acts on this stage will be remembered forever.

Female Talents: Across both cities, DGTL ensured that the programming was varied and inclusive, with a strong female talent line-up, celebrating and promoting a wide set of artists who deserve to be honoured. For instance, the duo Giolì & Assia brought their respective blends of house, indie, and pop; SPFDJ who ripped the dance floor with her high-tempo sound exploring strains of techno, acid, EBM, hardcore and trance; and Dutch act KI/ KI with her sound realm that was both futuristic and nostalgic, among others.

Budweiser Brew District: Budweiser converted a part of the outdoor area into a complete decompressing zone for attendees, replete with a Bud bar, some photo-worthy booths, comfortable seating, interactive installations and a tattoo parlour.

Stand Out Aspects: Industrial and raw stage designs, state-of-the-art visual experience, impressive stage lighting, free water for all, sustainability initiatives, a unique Boiler Room partnership, and memorable sets by Solomun, Maribou State, SPFDJ, DJ Stingray, Cynthie, Ki/Ki, Guy Contact, Zequenx, bringing to Indian shores electronic music at its finest.

Sustainability Initiatives: At DGTL New Delhi and DGTL Mumbai, ideas and practices around circular sustainability created an unparalleled experience that went far beyond the basic premise of musical entertainment, stretching into much needed conversations of climate responsibility, and realistic, local technical and economic possibilities.

Butt Ballots ensured a gamified solution to the process of stubbing cigarette filters and were installed at the smoking sections across the festival. The waste collected will be recycled.
SKRAP, a waste management solutions company, ensured waste segregation at the festival and a sustainable disposal system that involves recycling and composting. DGTL recycled 89% of the waste that was collected at the last edition in Bengaluru in 2020.
Cupable brought to the festival cups that are made from rice husk and are 100% recyclable and reusable, overall encouraging a responsible and sustainable way to consume drinks at festivals.
DGTL discourages meat consumption and the pledge continued at DGTL New Delhi and Mumbai too, by serving only vegetarian food at the festival.