Take a homegrown artist, add a number of chart topping productions on heavyweight international record labels, throw in DJ sets that have resonated across the nation, squeeze in a successfully launched imprint called Juicebox Music and you've got a recipe for the musical trump card held by Praveen Achary.
Only a few in the country can be as effective through their musical diversity & unpredictability and still be well recognized & respected. With a unique combination of 'Deep, Tech and Progressive House', Praveen's style has always gained him a lot of appreciation from fellow artists & fans alike. Having productions signed to some of the biggest record labels like Mitch Alexander's microCastle (Canada), Eelke Kleijn's Outside The Box Music (Netherlands), Cid Inc's Replug Records (Sweden), Darin Epsilon's Perspectives Digital (USA), Nikko.Z's Dopamine Music (Greece) and many more, his work has already garnered massive support & plays from industry stalwarts such as Sasha, Hernan Cattaneo, Nick Warren, Cid Inc, Henry Saiz, Darin Epsilon, Eelke Kleijn, Markus Schulz, Jaytech amongst others as well as reaching Beatport's Top 100 Progressive House Charts numerous times.
He is now the first Indian artist to do a podcast for one of the biggest labels in the music Industry 'Anjunadeep'. We at CME are extremely happy and proud of our homegrown gem Praveen Achary & had a little chat before his live set for Anjunadeep on 9th April, 2020.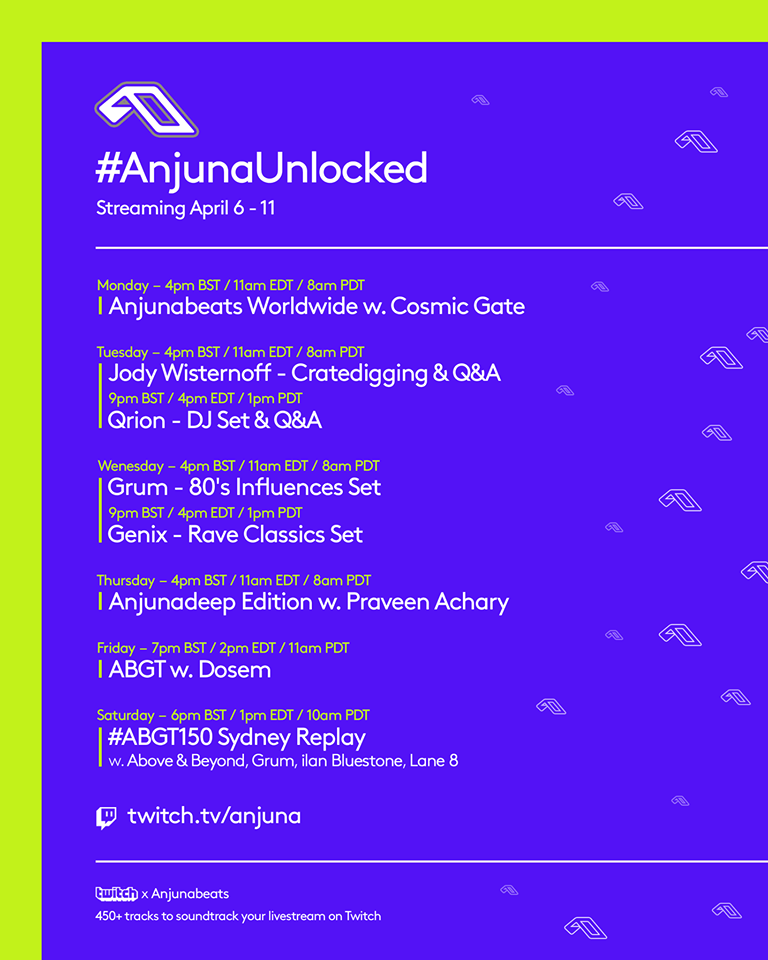 Q1. Who is your favourite Anjunadeep artist? And is there any artist from the label which inspires you?
– Hard to pick one favorite from their diverse roster, but some of my regular go-to ones are Martin Roth, 16BL, Ryan Davis and Modd. Quality producers that constantly inspire me.
Q2. First indian artist to be doing a guest mix for Anjunadeep. How does this feel?
– Surreal that it's actually happening and grateful for the opportunity. I hope this is the first of many associations between the label and Indian artists, especially with their massive fan base here.
Q3. When did you hear from the label that they wanted  you to do a guest mix. And what was your reaction?
– I've been in touch with different members of the label, on & off, ever since the ABGT001 gig in Bangalore. More recently, Dom (Donnelly) & I connected at the first Anjunadeep Goa party after my set and we spoke about the guest mix for the podcast. Things took time, as does everything, and now it's come to fruition thanks to the back & forth support between Anjunadeep, myself and my label – Juicebox Music.
Q4. With no gigs since a month & it looks like it will go on till more few months, how are you coping with things?
– It's a tough situation for everyone around the world, in whatever industry you're in. It's really unfortunate and hard-hitting for many. Even though it can get to you, worrying about what the future may hold when we have no real control over the global economy and it's changes isn't productive. Instead, grounding yourself to being thankful of what you do have is what really matters. I'll spend this time working on music (solo & collaborations), reading more books, developing new hobbies and staying in touch with friends & family as much as possible.
Q5. Lot of DJs out there are depended on gigs as their main source of income. What advise would you like to give them in these times?
– I wish there was an immediate solution. I'm not sure if I can give an alternate that replaces the total income, but If you're generally a musically creative artist, start developing extra skill-sets like music production & sound design to put out products (like tracks / sample packs) for sale. You can also set up an account on Twitch to video-stream your sets and have your followers donate. SoundCloud has now added a "Direct Fan Support" button on your profile where your fans can support you by donating as well. These are some tips that I can offer. I really hope everyone gets back on their feet as soon as possible, and most importantly be safe & healthy.