Being asked to describe his own music, Christian Löffler states that he tries to combine melancholy with euphoria. "All my music is connected by a gloomy spirit, which is minted by a warm sincerity. I try to merge all kinds of different acoustic colors to obtain this feeling in my music."
Löffler started to play music by the age of 14. Living in a secluded region, lacking a musical surrounding, he had to teach himself the essentials of making electronic music. Before long he developed his own deep and moving sound, colored with a melancholic undertone- Music for the soul & for the body. He recalls a variety of music styles he listened to as a child and teenager that were highly influential to his own development as a musician.
Due to the fact that Löffler is also working as a visual artist, he's following the same approach when making music that he's following when painting or taking photos. It is more about telling a story than making everything accessible right from the start.
We at CME had the privilage to talk to this extremely talented gentlemen before the release of his 4th Studio Album 'Lys'

Read below the complete interview :
Hi Christian, great to have you at CME. How are you doing today? Congratulations on completing yet another album. How excited are you for this particular one? What was the idea behind naming it Lys?
To be honest I'm super excited as I'm opening myself even more with writing lyrics and singing more on this record. I'm following a concept with naming my albums after places that help me focusing and enabling me being productive as an artist. In the beginning there was 'A Forest' my first album describing a period in my life finding peace in long walks through the forests close to my home town. I recorded many sounds out there using them in my productions still until today. A few years later I moved closer to the sea. Living only 300 meters from the baltic sea inspired me to create my second long player 'Mare'. Another very important aspect in my life as an artist but also as an person is light. In 2017 I started painting again which helped me to find inspiration for new music. I realized how important light is for my work, especially for the visual art. After spending a few weeks in Denmark chasing the beautiful northern light with a camera and painting I decided to name the new album 'Lys' which is light in Danish.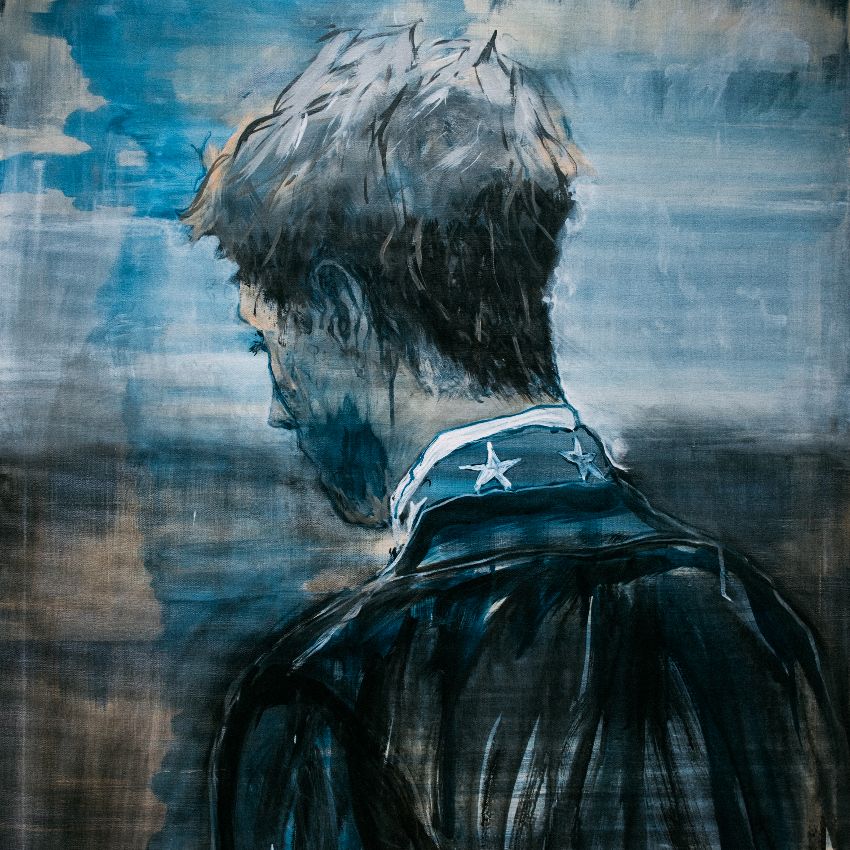 Last year, you released the beautiful Graal (Prologue) and you are back again with another full album less than a year later. Considering it takes quite some time two create two full albums in the span of two years, how do you balance producing & creating and touring?
Graal' was made from sketches I wrote while touring. It should feel like a sketch book quickly expressing my musical ideas in a rougher way. It was only six songs, so not really meant as a full album more as an introduction to 'Lys'. I already started working on 'Lys' straight after finishing 'Mare'. There are some ideas I came back to after not following them anymore for 'Mare'. Of course it's difficult to find time to write new music in between tours but I managed to take a few breaks and stepping back from music for painting helped me to focus again.
What can your listeners and fans expect from your upcoming album? Any new sounds or any experiments on this one?
I recorded a few very rough and fast techno sketches just for fun. Some of them I were used as basements for new songs. For example for 'Sun' and 'Noah'. Also I wrote many lyrics while having a break from music, starting to paint again. I decided to focus more on my voice now. But apart from that I also collaborated with other artists like Josephine Philip, Mohna, Menke and finn.
Lys will be accompanied by paintings, which are also your creations. What was the inspiration behind this?
With getting back into painting after years of only focusing on my music it was very inspirational to work physical again. Setting up the canvas and mixing the colors became a ritual that helped me to step back from screens and computers. It a complete different way of working even though it driven by the same urge to create something. After heavily touring in 2016 and 17 and needed to take a break to find creativity again. I stopped making music and started drawing and painting again what I also stopped almost completely after leaving university. It was very refreshing and I came up with many musical ideas while visiting art exhibitions and following my favorites painters more again but also from actually painting myself.
Your Cercle set at Fontaine De Vaucluse has nearly reached 3 million views. It's an understatement saying that the Cercle team pushes boundaries with their exotic location scouting. How was the experience for you?
It was very exciting standing up there having this unbelievable view. The way up was an adventure bringing all the gear up a rocky steep path. But making our way down was even more adventurous when the sun set after I finished playing.
Given your music style, do you have a preference for playing in open air venues compared to clubs/indoors? How different is the track selection / set flow process comparatively?
I prefer open air locations as I love how the sound waves float through the air and you can almost see and feel it. I always play differently but especially playing a concert show differs a lot from a club show. For the concert I focus on more quieter, experimental parts as for the club I focus on the heavier, beat driven parts of my music.
Any dream artist you would like to collaborate with for a track or live performance?
I have many musical idols but I never really thought of a dream collaborator. I think I still need time to work it out for myself but if I could name somebody for the future it would be Eli Keszler or This Will Destroy You.
Ki Records is almost a decade old now. What direction do you see it heading in the next decade or so? Are there new artists on the label that you are excited about?
Yes we have new exciting artists that we will work with. I cannot say too much right now but there will be at least two new artists on the label that we will present this year. We are trying to find artists to work with that open up our style in music a bit wider. That's the main goal for the next years to come. And there will be new music by Fejká, Hior, Aparde and Janus Rasmussen of course.
We love the music videos and album art of each of your releases. How much influence do you have on them?
We have visual artists in our inner circle working on the artworks and videos. Also I made friends creating beautiful things all over the world while touring. Many of the artists on our label are also visual artists. So they also have a very strong vision of how there artwork should look like or they even create it theirselves like I do.
We wish you all the best on the album release & thanks for chatting with us!