Widely celebrated as one of the pioneers of techno in India, Arjun Vagale continues to steer the course of the country's underground electronic movement. Known for his intense, driven and raw sound, Arjun is one of the most prolific artists to come out of Asia.
His productions on labels like Planet Rhythm, Drumcode, Tronic, and his own ODD Recordings and AsymetriK, have had massive global reach. Receiving numerous awards and named one of "Asia's finest underground music exports," Arjun is an artist, DJ, producer, live act, label owner, radio show host, and all-round music entrepreneur.
Over his career of 20+ years, he has traveled the world, playing for Awakenings, Boiler Room, DGTL and Sonar. He has risen to the forefront for the quality and depth of his productions and DJ / live sets, while always staying true to his roots.
On October 8, 2021, Arjun releases his debut album 'EXIT FRAGMENTS' for
The Escape Velocity on Jeff Mills' AXIS Records – one of the most influential Techno labels of all time.
We at the CME HQ have always been huge fans of Arjun's music and so we wanted to take this opportunity to invite the genius to the CME HQ for a sit-down with our team. We spoke to Arjun about his debut album, life as artist during this pandemic, music production, artists to watch-out for and many more. Scroll down to read the full interview.
Hi Arjun, welcome to the CME HQ. Let's start by talking about your first solo album - Exit Fragments. What's the story behind the album?
This is a "concept" album – so the story behind it is : In 1969, astronauts on NASA's Apollo 10 mission heard sounds they later described as "outer-space type music" while orbiting the far side of moon. Astronauts on the Apollo 11 mission also heard similar sounds, though they never publicly discussed what they had heard. Those recordings remained largely buried until recently, when they were finally declassified. Many theories and speculations arose as to their origin, but no conclusive explanation has ever been presented.
Do the recordings from the dark side of the moon have a story to tell? The sounds bear an uncanny similarity to that of a ring modulator and electronic instruments in general. If we were able to explore the roots of the mysterious sounds, might we discover a form of communication emanating from outer space? At a time when our planet is plagued by a deadly virus, climate change and natural disasters, mentions of 'unidentified aerial phenomena' have again re-emerged. Increasingly frequent accounts of unexplained objects that seem to defy the laws of physics have been openly discussed – even by the mainstream media. Could our curiosity as a species to travel deeper into outer space be the reason behind these sightings? Or, with our current technological advancements, are we on the cusp of the greatest discovery mankind has ever made? Is it possible that synthesized music will be our means of communication?
As we exit the fragments of earth, perhaps electronic music truly is the language of the future. Sonically exploring these notions is the inspiration behind this album.
Axis Records - One of the greatest techno labels of all time. That's a dream home for every Techno artist. How did this association with Jeff Mills and the label fall through?
Nothing comes easy – and I feel this album or this release on AXIS is the culmination of the last 25 years of work I've put into my craft. It's an honor and a privilege to release with them, and I'm very grateful to Jeff for allowing complete creative freedom on this project.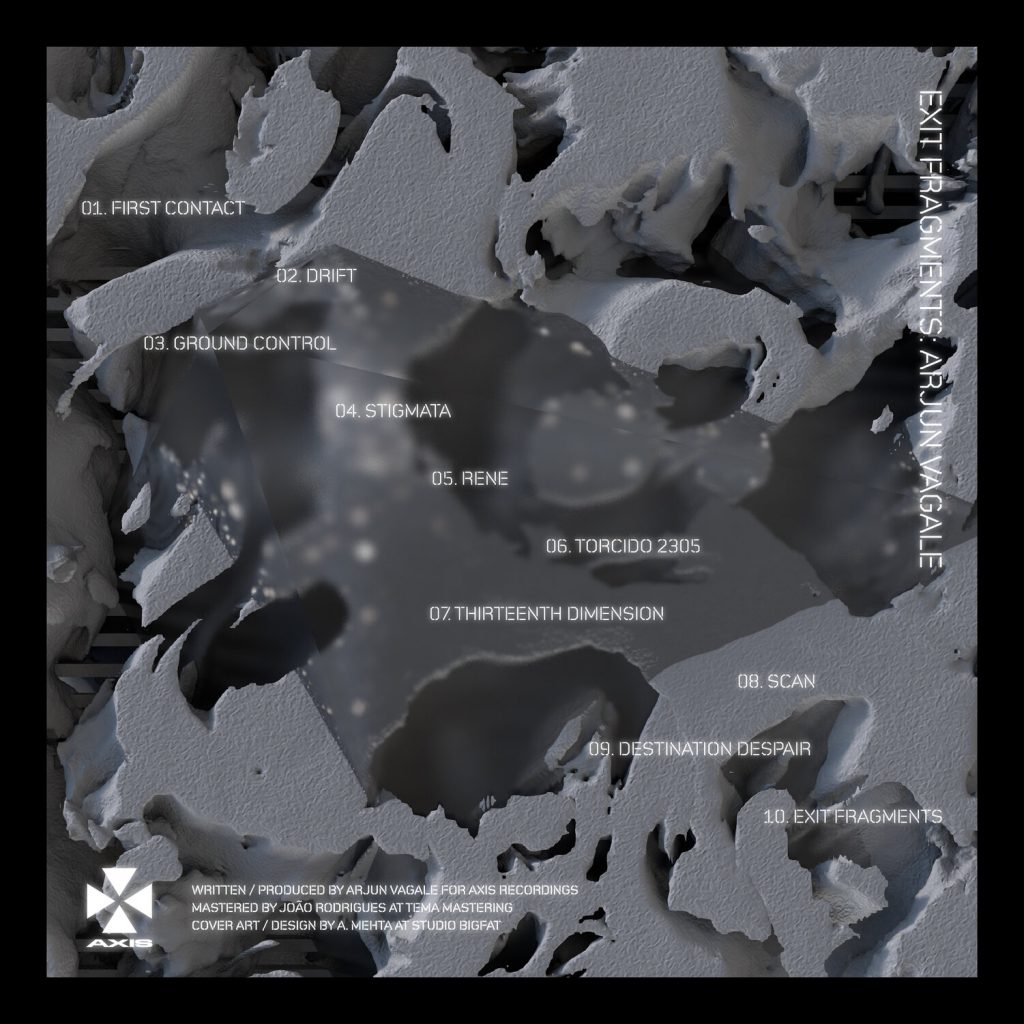 Was life in a pandemic a big source of creativity and inspiration behind the album coming together?
Yes absolutely! All through the pandemic, I've had waves of creativity. At first I just harnessed it and wrote what I liked, coz – you know, there are no dance floors to play to. But after a few months, I decided to add some structure to the creative process – in a way that would challenge me, and keep me busy. These track – or at least 90% of them, were written during one of those creative waves, in about a month or so – my aim was minimalism, not the genre but in technique to produce using as few elements or instruments as possible.
You are amongst the new generation of professionals and artists who've moved base out of the city hustle and chosen the quieter setting of places like Goa. What prompted this move few years back? How does it affect your output as an artist?
Well – we've been living in Goa now for about 10 years on & off, so the intention to move here at that time was very clear – clean air, relaxed environment and not a hectic social life. That's all changed now! Goa infrastructure is at its worst it's ever been, there are way too many people here and the state just can't handle it – I've seen it deteriorate to this degree that maybe its time I move out of here.
But yes – it's played a massive part in my output over the last 5 years.
Life has been especially difficult for the music industry in the last one year. With things slowly stabilising, what do you feel should be some of the traditional means and ways of this industry that need to be revisited and revamped?
I think we need to put the focus back onto the music and less on everything else – fact is, most people who came into the "scene" came here because of the music, and I think most have lost sight of that – its become a game of who is bigger, who is better – who spends the most. This is something I and my new agency are being mindful about.
People say that the nightlife industry in India has become very formulaic. What are your thoughts on the same? Who are some of the artists that you feel are consistently pushing the envelope?
Not sure if I entirely agree – yes there are the copy cat crews, who can't even come up with an original name for their events, but there are also a lot of innovators who are pushing the envelope, and trying to break the mould at a very grassroots level – I try and ignore the former, and back the latter.
As for artists, I think we have some immensely talented individuals producing fantastic music – some of my favorites are Kohra, Kollision, Audio Units, Dotdat, Anhad + Tanner & Modrac.
What's your current favourite hardware setup to use at gigs?
I've just revamped my set-up after maybe 10 years, and have moved to CDJ's as controllers but not entirely as I'm using them in HID mode with Traktor. So its 3 or 4 CDJ's + a mixer and i'll add my Elekton sampler soon once I get some real world experience with this configuration.